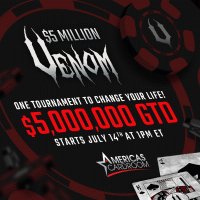 It's easy to understand why Americas Cardroom (ACR) has been promoting the $5 Million Venom so much.  The tournament, which will get underway on July 14th, is going to be a game-changer and is the largest tournament ever put together by any US-facing poker site.


Looking at what's in store, it's easy to understand the excitement. Take a look at just a little of what's coming:
The opportunity to become an instant millionaire – The $5 Million Venom winner will pocket $1 million GTD. This event is going to change lives!
Multiple chances to enter – ACR is offering three Day 1 starts. If you don't survive Day 1A, come back for Day 1B or 1C. This is the first multi-Day 1 tournament for ACR and everyone has a chance to sit down at a table.
Plenty of chances at free seats – ACR is adding $120,000 a month into their Step tournaments to win a $2,650 Venom seat. Step 1 is free to enter for everyone.
Lightning-fast payout by Bitcoin — If you win the $1 million first place prize, ACR will send you the payment within minutes by Bitcoin to demonstrate to the world how fast players get paid. Don't use Bitcoin? No worries. You can send it back right away and get paid using a traditional payment method.
Here's the complete $5 Million Venom Schedule:
Day 1A: Sunday July 14th at 1pm ET (12 hours of play)
Day 1B: Tuesday, July 16th at 1pm ET (12 hours of play)
Day 1C: Sunday, July 21st at 1pm ET (12 hours of play)
Day 2: Monday, July 22nd at 1pm ET (12 hours of play or down to final 8 players)
Day 3 (if needed): Tuesday, July 23rd at 1pm ET (Play down to the final table)
Day 4: Wednesday, July 24th at 5pm ET (Final Table plays until tournament is over)
To learn more about this summer's biggest tournament click this link.