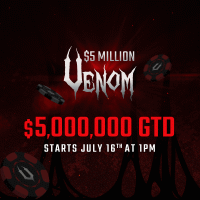 You might want to check your local supermarket for Red Bull™ deals because you're going to need the energy when you hear this. Americas Cardroom is hosting the $5 Million Venom on July 16th, a multi-day online poker tournament with a $1 million first place prize. And they've got 12 daily freerolls that lead right into it.
The dozen freerolls cost $0 to get into and each one leads to Step 2. Work your way through all six Steps and you've got yourself a $2,650 seat in the $5 Million Venom. Here's how the Steps work:
Step 2 ($6.61 buy-in) – 25 Seats guaranteed to Step 3 (1 in 2.75 win)
Step 3 ($16.51 buy-in) – 15 Seats guaranteed to Step 4 (1 in 3.6 win)
Step 4 ($55.01 buy-in) – 6 Seats guaranteed to Step 5 (1 in 3.9 win)
Step 5 ($215.01 buy-in) – 5 Seats guaranteed to Step 6 (1 in 3.15 win)
Step 6 ($630.01 buy-in) – 1 Venom Seat guaranteed (1 in 4.41 win)
With Americas Cardroom dropping $120,000 into these Step freerolls every month, this really is a prime opportunity to play at Americas Cardroom. Click here to play now!
In fact, these $0 Step 1 freerolls are so lucrative that everyone is playing in them, including WSOP Main Event final tabler Thomas Cannuli. He's created The Cannuli Challenge, a one-man quest to lock up three $5 Million Venom seats in three months, starting with a $0 bankroll. You really should join him.