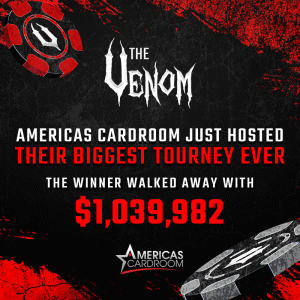 Any poker site can boast about how their latest tournament is bigger or better than anything offered by the competition. But only one poker room can actually back up those claims with numbers.
That site is Americas Cardroom and the tournament we're talking about is the $6 Million Venom, which just wrapped in spectacular fashion. Here's a glance at how it all unfolded:
Total initially guaranteed: $6 Million
Final prize pool: $6,740,000
Total entries: 2,696
1st place prize initially guaranteed: $1 Million
Final 1st place prize: $1,039,982
The big winner of the tournament was 'galodoido13'. Look for his name making headlines because he just became an instant millionaire.
If you want to follow in his footsteps, stop by Americas Cardroom in 6 months for the next $6 Million Venom. The online poker site just announced that they're making the Venom a permanent fixture on the tournament schedule.
We don't know if the next one will be $6 Million, $7 Million, or something even bigger, so we recommend watching Americas Cardroom to find out. And then make a plan to conquer the tournament. We'll be rooting for you.
Americas Cardroom is celebrating the New Year with a special Blitz Bonus Builder promo. From January 1st to 10th you can get $10 bonus cash for every 250 Blitz Poker hands dealt. That's up to $100 bonus daily and $1,000 total.