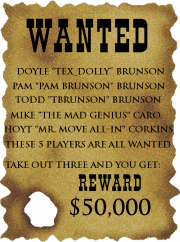 It's Thanksgiving week in the USA and DoylesRoom is thanking players with an extra special Bounty game on Wednesday Nov. 24th at 9:30pm eastern! The Bounty plays every week and every week you have a shot at $50k in bounties, well this week is a touch more juicy!
Not only are there five bounties in the game this week, namely Doyle "Tex_Dolly" Brunson, Todd "TBRUNSON" Brunson, Pam "PAM BRUNSON" Brunson, Mike "The Mad Genius" Caro and Hoyt "Mr. Move All-In" Corkins, this week even if you don't take out a bounty, if you are seated at a table that a bounty player gets taken out, you will share $600 with your table mates! You can actually get a part of a bounty without risking a single chip! This is just one way DoylesRoom, the US friendly poker room on the Cake Poker Network are thanking players this year.
The Bounty is actually like a freeroll the first time you play too! All you have to do is pay your way in to the game (at a low $27.50) and win or lose, visit the rebate page here following the game and enter your details. DoylesRoom will refund your buy in (please allow 24 hours for your rebate, hey that's better than any retailer's rebate times)!
Don't have the $27.50 to buy in direct to The Bounty, no worries, DoylesRoom has satellites to The Bounty that start as low as 29 cents! You can choose from MTT's or Sit N Go's to win a seat in The Bounty.*
If you don't have an account at DoylesRoom yet you can open one here. Once you have signed up with our special link, use bonus code PPU110B and you will get a 110% match on your deposit up to $600 FREE!
Bounty Rebate

First time players can get a rebate win or lose!*

$50,000 Bounty Grand Prize:

Knock out 1 Bounty get $1,000, Knock out 2 for $10,000, Get $50,000 for 3!

$5,000 10/2 Extra Bonus

Take out Doyle Brunson with a 10/2 and get an extra $5,000!

$500 Casino Chip

Win The Bounty tournament and you get $500 in DoylesCasino chips.
Multi Table Satellites:
Name
Schedule
Buy-in
$0.27 Satellites
12am ET to 6pm ET. Feeds to $2.75 Super Satellite
$0.27+$0.02
$2.75 Super Satellite
Nightly at 8pm ET
$2.75+$0.25
$5 Bounty Satellite
Wednesday 12am ET – 7:30pm ET
$5+$0.50
Sit and Go Qualifiers:
Doyle's Bounty Satellites
Sit N Go (10 Players)
$2.75+$0.25
Doyle's Bounty Satellites
Sit N Go (90 Players)
$2.75+$0.25
DoylesRoom is a US friendly online poker room and offers a wide assortment of freerolls, guaranteed tournaments, a full supply of cash games and is endorsed by the "Godfather of Poker" Doyle Brunson. Open your DoylesRoom Poker account here and get in on the best value in online poker today! Learn more at our Doyles Room review page.
*The Bounty rebate does not apply to players that have won a seat via a satellite game. Only those that pay the full buy in are eligible for the rebate.