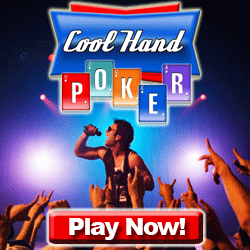 Nearly every online poker room run satellites and feeder tournaments where you can win a free seat in a major land based poker tournament. This is a very attractive promotion as the cost to enter and travel to a major poker event is rather high and the promotions offer a trip of a lifetime for many poker players.
If you know anything about CoolHand Poker, you know they are more into relaxed poker and having a good time playing poker rather than grinding it out for hours on 8 tables at a time. So it was only natural to come across the latest promo from CoolHand, instead of sending you to a land based poker event, they are letting you choose a fun event to attend or as they say:
"Time to let down your Poker face and have more fun!! "
Calling this the "Let Us Entertain You" promotion, if you take the first prize in the final event, you will get an "online ticket voucher" worth $500. You can then decide if you would like to see a concert or hit a sporting event in your region! With $500 to spend, the choices are really varied! (travel & accommodation excluded, terms & conditions apply, cash equivalent can be requested).
To earn your $500 voucher you'll need to win the final tournament at CoolHand Poker that plays out on Wednesday October 21st. With a super low buy in of only $5.00 (+.50) it is anyone's game. There are also unlimited rebuys for the 1st hour for just $1.00 and a single add on available for $1.00!
FINAL Tournament Details:
21st October 2009 20:00 BST (3:00 pm eastern)
Buy-in is $5+0.5 gets you 1,500 chips.
Unlimited re-buys of $1.00 for the first hour +1 Add-on at $1.00
5 minute levels
To make the promotion even better, CoolHand will offer feeder satellite tournaments with a crazy low $.50 (+.05) buy in!
Feeders to the Final:
Starting Wednesday the 14th of October there will be $0.50 (+.05) buy-in feeder tournaments that run twice daily at 10:00 BST (5:00am eastern) and 20:30 BST (3:30pm eastern), finish in the top 6 places and you will win a free entry in the Final Event on 21st October 2009.
The tournaments are all listed in the Poker Lobby under the Tournaments >> Special Tournaments tab.
Re-buys and add-ons are also available at $0.50 each
Spoil yourself, take a friend or partner, take a group! CoolHand will sponsor your tickets up to $500. Just tell them which artist or what event you want to see in your region and how many tickets you'd like to get in total. Download the free CoolHand Poker software today and take advantage of the generous 100% matching bonus up to $350 total on all your deposits up to $350 in FREE poker money! Want to learn more? Visit our CoolHand Poker review for more information on this online poker site.
Sorry, no new US poker accounts are accepted at CoolHand Poker.