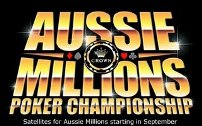 It won't be long now, the 2010 Aussie Millions will begin on Thursday January 14, 2010 at the Crown Casino in Melbourne, Australia. The events will run for 17 days ending on the 31st with the main event final table and a $500 + $50 NL holdem turbo.
The 17 days are filled with numerous events and plenty of poker action to satisfy even the most poker hungry fan or player! There will be 20 separate events this year within the 17 day span of the Aussie Millions Poker Championship. Last year's main event winner was Gus Hansen. This year it could be you!
You can buy your own way in and pay for your own flight and accommodations or, if you as smart as I think you are, you'll be playing in the Aussie Million qualifiers at Spin32Poker! You see, when you qualify for the Aussie Millions with Spin32 Poker, you'll enjoy a $15,000 prize package that includes entry into the main event, airfare and accommodations at one of the best hotels in Melbourne!
Now I want to share with you a way that you can get on the plane to Melbourne in January for FREE! Spin32Poker has a new promotion that will give you a satellite seat coupon along with a $15 up front instant bonus on any deposit you make of at least $50! So, let's say you make a $50 deposit, you will hit the tables with $65, plus you'll have a ticket to sit in on one of the daily Aussie Millions satellite games! Win that satellite and you move on to the $60 satellite that awards a seat into the monthly Grand Final that has the Aussie Millions package in it. There will be a Grand Final held on Saturday, September 26th, Saturday, October 25th, Saturday, November 29th and Saturday, December 27th, 2009.
The Grand Final will award one seat for every $15,000 in the prizepool and then split the remaining cash over the top players that did not win a seat. Are you getting excited yet? Let me share how to claim the ticket and a bit of information on Spin32Poker. Let me also add, this bonus is available to first time depositors and players that have previously deposited too. So anyone can claim this deal one time (only).
First, set up an account with Spin32 Poker, then make a minimum deposit of $50 using Spin32 Coupon Code "AUSSIE15". You will get the free $15 and the coupon as soon as your deposit is validated (take only a few seconds). Easy enough? That is all there is to it. So, what are you waiting for? Sign up with Spin32 now and get started on your trip to the land down under! Spin32 is a US friendly online poker room using the Merge Gaming Network. More information including funding methods, other promotions and more can be found on our Spin32 review page.

The 2010 Aussie Millions Schedule:
Date
Time
Event #
Tournament
Buy-in and Entry Fee
Thursday, Jan 14
7:10pm
1
Opening Event – No Limit Holdem Day 1
Flight 1
$1,000 + 100
Friday, Jan 15
10:10am
Phase 2 Satellite
$230 + 20
12:30pm
Opening Event – No Limit Holdem Day 1 Flight 2
$1,000 + 100
6:15pm
Supershot Satellite 1 (Phase 3)
$1,050 + 100
Saturday, Jan 16
10:10am
Phase 2 Satellite
$230 + 20
12:30pm
Opening Event – No Limit Holdem Day 1 Flight 3
$1,000 + 100
2:15pm
Phase 2 Satellite
$230 + 20
6:15pm
Supershot Satellite 2 (Phase 3)
$1,050 + 100
Sunday, Jan 17
10:10am
Phase 2 Satellite
$230 + 20
12:30pm
Opening Event – No Limit Holdem Day 2
$1,000 + 100
2:15pm
Phase 2 Satellite
$230 + 20
4:15pm
2
PokerPro No Limit Holdem
$500 + 50
6:15pm
Supershot Satellite 3 (Phase 3)
$1,050 + 100
Monday, Jan 18
10:10am
Phase 2 Satellite
$230 + 20
12:30pm
3
Limit Holdem (2 Day Event)
$1,000 + 100
2:15pm
Phase 2 Satellite
$230 + 20
6:15pm
Supershot Satellite 4 (Phase 3)
$1,050 + 100
Tuesday, Jan 19
10:10am
Phase 2 Satellite
$230 + 20
12:30pm
4
Pot Limit Omaha (2 Day Event)
$1,000 + 100
2:15pm
Phase 2 Satellite
$230 + 20
4:00pm
Limit Holdem Day 2
Wednesday, Jan 20
10:10am
Phase 2 Satellite
$230 + 20
12:30pm
5
Feature Event – No Limit Holdem (Bounties)
2 Day Event
$1,500 + 150
2:15pm
Phase 2 Satellite
$230 + 20
4:00pm
Pot Limit Omaha Day 2
6:15pm
Supershot Satellite 6 (Phase 3)
$1,050 + 100
Thursday, Jan 21
10:10am
Phase 2 Satellite
$230 + 20
12:30pm
6
H.O.R.S.E. (2 Day Event)
$1,000 + 100
4:00pm
Feature Event – Bounties Day 2
4:15pm
Supershot Satellite 7 (Phase 3)
$1,050 + 100
7:15pm
Charity Event
$1,000/$500 Rebuys
Friday, Jan 22
10:10am
Phase 2 Satellite
$230 + 20
12:30pm
7
No Limit Holdem – Rebuys (2 Day Event)
$1,000 + 150 with $1,000 Rebuys
2:15pm
Phase 2 Satellite
$230 + 20
4:00pm
H.O.R.S.E. Day 2
6.15pm
Supershot Satellite 8 (Phase 3)
$1050 + 100
Saturday, January 23
10:10am
Phase 2 Satellite
$230 + 20
12:30pm
Supershot Satellite 9 (Phase 3)
$1,050 + 100
2:15pm
8
$100,00 Challenge (2 Day Event)
$100,000 + 500
4:00pm
Event 6 Day 2
4:15pm
Supershot Satellite 10 (Phase 3)
$1,050 + 100
Sunday, Jan 24
10:10am
Last Chance Phase 2 Satellite 1
$230 + 20
12:30pm
9
Aussie Millions Main Event – Day 1 Flight 1
$10,000 + 500
2:15pm
10
PokerPro No Limit Holdem Shootout(90 Players Max)
$500 + 50
6:15pm
Last Chance Supershot Satellite 1
$1,050 + 100
Monday, Jan 25
10:10am
Last Chance Phase 2 Satellite 2
$230 + 20
12:30pm
Aussie Millions Main Event – Day 1 Flight 2
$10,000 + 500
2:00pm
$100,000 Challenge Day 2
2:15pm
11
PokerPro Pot Limit Omaha Hi Lo(80 Players Max)
$500 + 50
6:15pm
Last Chance Supershot Satellite 2
$1,050 + 100
Tuesday, Jan 26
12:30pm
Aussie Millions Main Event – Day 1 Flight 3
$10,000 + 500
2:15pm
12
PokerPro 7 Card Stud (80 Players Max)
$500 + 50
4:15pm
13
Australian Heads Up Championship – Field A (32 Players Max)
$5,000 + 300
Wednesday, Jan 27
12:30pm
Aussie Millions Main Event – Day 2
2:15pm
Australian Heads Up Championship – Field B (32 Players Max)
$5,000 + 300
4:15pm
14
Teams Event – No Limit Holdem
$1,000 + 100
Thursday, Jan 28
12:30pm
Aussie Millions Main Event – Day 3
12:45pm
15
Pot Limit Omaha
$10,000 + 500
2:15pm
Australian Heads Up Championship – Finals
4:15pm
16
Mixed Holdem
$1,000 + 100
Friday, Jan 29
12:30pm
Aussie Millions Main Event – Day 4
12:45pm
17
No Limit Holdem/Pot Limit Omaha – Rebuys
$1,000 + 150 with $500 Rebuys
2:15pm
18
H.O.R.S.E. (2 Day Event)
$10,000 + 500
4:15pm
No Limit Holdem
$500 + 50
Saturday, Jan 30
12:30pm
Aussie Millions Main Event – Day 5
12:45pm
19
No Limit Holdem 6 Handed (2 Day Event)
$2,000 + 200
2:15pm
H.O.R.S.E. – Day 2
Sunday, Jan 31
12:30pm
Aussie Millions Main Event – Final Table
12:45pm
20
Turbo No Limit Holdem
$500 + 50
2:15pm
No Limit Holdem 6 Handed – Day 2
9:00pm
Aussie Millions Player Party