If you're still getting over the horribleness that was the Super Bowl, make your own victory this Sunday night in a seriously high-scoring game.
Americas Cardroom is hosting a $55 Beast and Sit & Crush Cage Live Satellite featuring two Cage Live packages on the line, each worth $8,340. Win one and you'll get your event buy-in, airfare, spending cash, and accommodations at the Taormina Hotel and Casino.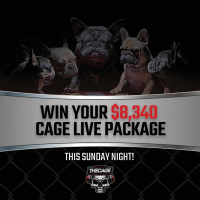 The next Cage Live starts March 29th and the insanity starts when wheels are down at Juan Santamaria International Airport in San Jose, Costa Rica. And we aren't even talking about the big money on the line.
"It's been a great day to say the least," said Dan Stavila. We're not sure if he was talking about winning over $42,000 or the unforgettable time he had in Costa Rica.
If you win on Sunday, your weekend in Costa Rica will be stacked with partying, dinner, a tour of the WPN offices, and some incredible poker where you can win some big money. Just take a look at the most recent Cage Live winners:
Troy Quenneville $51,315 – January 2019
Nick Boll $50,485 – December 2018
Dan Stavila $42,115 – July 2018
Thomas Cannuli $30,745 – October 2018
Christopher Roberts $21,825 – May 2018
Stanley Lee $19,875 – March 2018
Click here to download the ACR Software and get ready for the Cage!
You don't want to miss this either: The $5 Million Venom takes place soon and you can win your way in for free through a Step tournament, on right now. For details on The $5 Million Venom, including date and time, download the ACR software.