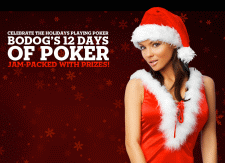 It's that time of year! Time for sharing and gifts and poker! To make the season bright, Bodog Poker is hosting the "Bodog 12 Days of Poker", this is 12 solid days of prizes, you can win free 100k guaranteed seats, Sony Bravia TV's, laptops, camcorders and more! Bodog Poker is putting on the Santa hat with two prizes every day from December 16th to the 27th!
The daily draws for prizes are selected from players at Bodog who earn at least 25 poker points in the day. For every 25 points you earn one entry, the more points, the more entries you get.
There are two prize categories during the Bodog 12 Days of Poker, one prize is awarded for 25 poker points earned in a day , and if you earn at least 75 poker points in a day, you will be reentered in the "High Stakes" prizes! The High Stakes Prizing is awarding much larger gifts so it makes sense to strive for the big money prize! Go here to check out the prize list.
The more poker you play, the more Bodog Poker Points you accumulate. Remember, for every type of poker game you play in the Bodog Poker Room, you automatically earn points! The higher the stakes, the more points and entries you will earn! Play ring games or tournament poker either way, you will be earning!
Bodog Poker accepts players from around the world including US poker players and now Bodog accepts Canadian players too! If you are reading this, most likely you'll be able to play online poker at Bodog! As another added "gift" when you sign up to play at Bodog Poker here, and use referral code 2429235, you will be treated to up to $550 FREE! Just make your first deposit and Bodog Poker will add a 10% instant bonus that you can play with right away plus an additional 100% bonus that clears faster and easier than any other online poker room in the world!
Don't wait, you don't want to miss a shot at a wonderful gift during the Bodog 12 Days of Poker! Click here to get started at Bodog Poker right away!