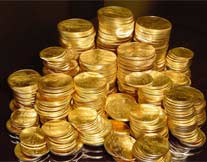 Earlier this week we talked a bit about playing in guaranteed tournaments with overlays as a way to build your bankroll and to protect it as well. Now I'd like to share with you another way to build a poker bankroll while you are playing at the tables. This is accomplished with playing online poker at a poker room that has a good rewards program. If you are going to be playing anyway, you may as well reap some rewards while you play.
Starting today, December 9, 2009, DoylesRoom has added a new and exciting rewards program that will add cash to your bankroll while you are playing at any real money ring game or tournament!
DoylesRoom has always had Gold Cards and Gold Chips as part of their rewards program, but now they have introduced "Gold Stacks"! As you play poker you will be building your gold stack, as you advance in levels you will first earn more gold chips, but once you hit level 10, you start earning cash! And the faster you can move up the levels the more cash you will be rewarded with! You will earn from the base of $12.50 up to the top levels paying out $682.50!
Each level has three tiers of rewards, if you complete the level at "Super-Turbo" you will max out the cash reward. Even if you take your time, you still cash in but at a lower reward amount. For example, at level 10, Super Turbo rewards with $24.75 while the guaranteed payout is $12.50. Super Turbo is 0-3 days, Turbo is 4-6 and the guaranteed level is set at 7 days or more.
Your level will remain the same or go higher too! The only way you will loose your level is if you don't earn at least three Gold Chips over the course of two consecutive months. In that case, you will be returned to level 10. You NEVER lose levels if you are under level 11.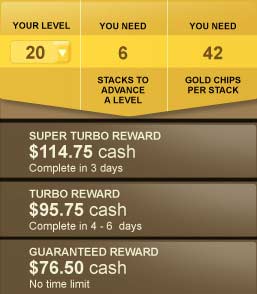 To track what level you are on, what you need to advance and what your rewards will be, you can check the handy Gold Stack Stick in the poker software at anytime. This tool will track your progress in real time and is available 24/7!
To get you started on building your gold stack, and increasing your poker bankroll, DoylesRoom has allowed us to offer you a special exclusive poker bonus matching your deposit 110% up to $600 FREE! That is $50 more than the players off the "street" can get at DoylesRoom and it is just for our readers! Just sign up with our links and use DoylesRoom bonus code PPU110B to claim your free cash!
DoylesRoom accepts US players from all states (except KY) and operates on the Cake Poker Network. DoylesRoom is the only online poker room endorsed by and played at by the "Godfather of Poker" Doyle Brunson.

Sign up with DoylesRoom today and start building your Gold Stacks to boost your bankroll! Learn more about this great US friendly online poker room at our DoylesRoom review.