Not all poker players are smokers. Heck, we know a lot of vegan poker players who have sworn off alcohol and other, shall we say, substances. So we're not sure why Americas Cardroom went with that whole "smoke the tables" theme when coming up with the High Five, their latest tournament series. But hey, whatever gets players to the tables. Click here for more details!
We think the series stands on its own and doesn't need a 420 theme. After all, with $1.3 million in guaranteed prize money and tourneys starting as low as a buck, this is a big deal.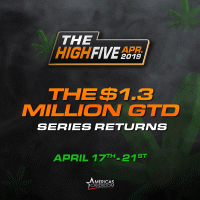 If you're looking for reasons to play in the High Five, which runs from April 17th through 21st, here are just a few:
$1.3 million in guaranteed prize money
5 tournaments a day for 5 straight days
A $420,000 GTD Main Event
Buy-ins as low as $1+0.05
A "courtesy break" daily at 4:20pm ET
A 50% reload deposit bonus up to $420
The High Five follows the recently held OSS Cub3d series, which featured over $8 million in guaranteed prize money. So this one is a little low key. Get in the action by clicking here!
But Americas Cardroom is dialing up the guarantees again in a few months with the $5 Million Venom, the biggest single poker tournament ever held by Americas Cardroom and the largest of any US-facing poker site.
For more details on the $5 Million Venom and everything you need to know about The High Five, click here.